Smart dwellings. Architectural perspectives opened by COVID-19 pandemic
Keywords:
COVID-19 pandemic, architecture, dwelling, social distancing, interdisciplinarity
Abstract
Preamble: The pandemic with COVID-19 that we have been experiencing globally for almost one year now brings continuous challenges on many levels, the built environment being an important one. Social distancing meant that during this period housing has been requested differently, first as a shelter, now as a space in which we have to work or learn. Objectives: The research aims to identify dwellings parameters that need reconsideration from the pandemic experience with COVID-19, how these can be adjusted in order to meet safety and comfort requirements to ultimately maintain well-being. Prior work: The paper investigates the latest written documents on the influence of the pandemic with COVID-19 on the built environment, including published articles, peer-reviewed articles, digital blog posts, expert opinions. Approach: The research is of narrative review type and interdisciplinary investigation of the specialized literature but at the same time it is also a reflection of the personal experience of the authors during COVID-19 pandemic. The following parameters of the home are analyzed: areas, dimensions, functions, finishes, accesses, lighting, relationship with the outdoor. Results: Health, safety and comfort are 3 aspects that were tested during the quarantine period and are essential when we talk about housing and pandemic dwellings. It is estimated that there will be changes in the design of new residential buildings, collective and individual. Homes will need versatility, more generous spaces, functional expansions so as to cover both living and work or learning areas. There is talk of a living architecture but at the same time of touchless technology. The post-pandemic COVID-19 architecture will emphasize the user's well-being, but with much more emphasis on safety issues. Implications: The challenges of the pandemic will influence the design process with possible changes in regulations, with an impact on architects, verification requirements, and contractors but also costs for the beneficiary. The architecture of post-pandemic housing will be an interdisciplinary collaboration between architect and specialists such as medical doctor, biologist, psychologist, engineers. Value: The paper highlights the importance of the need for an interdisciplinary approach in the design of housing, a new aspect catalyzed by the pandemic with COVID-19.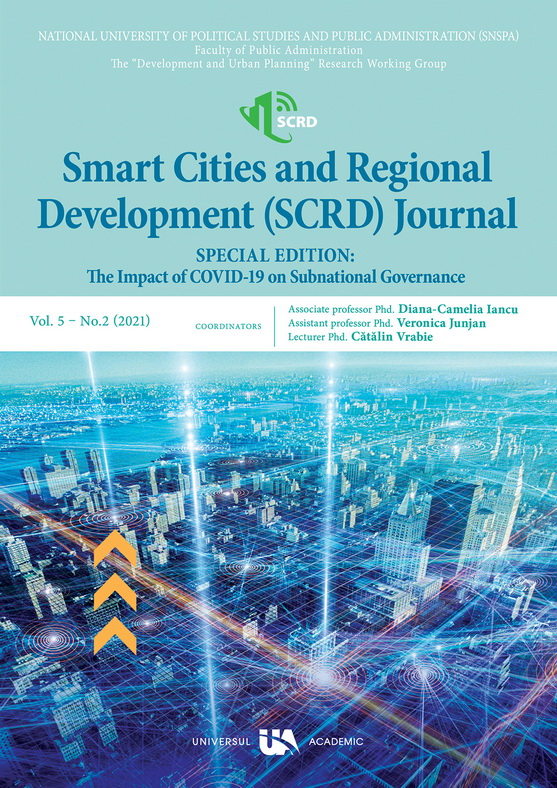 Downloads
How to Cite
[1]
"Smart dwellings. Architectural perspectives opened by COVID-19 pandemic",
SCRD
, vol. 5, no. 2, pp. 33–49, May 2021,
doi: 10.25019/scrd.v5i2.102.