Gestionarea durabila a padurilor urbane in orasele inteligente
Keywords:
dezvoltare durabilă, calitatea vieții, împădurire, specii adecvate
Abstract
Dezvoltarea oraselor inteligente face parte dintr-o serie de obiective de dezvoltare durabila centrate pe bunastare economica, sociala, culturala,, iar unul dintre domeniile definitorii pentru evaluarea calitatii vietii il reprezinta modul in care sunt gestionate spatiile publice verzi, implicit padurile urbane. Ca principiu, tranzitia la orasele inteligente nu inseamna renuntarea la toata dezvoltarea existenta si infiintarea unor orase noi, dupa tipare noi, standardizate, ci dimpotriva. Acest proces trebuie centrat pe contextul si ecosistemele actuale. Prin concepte si tehnologii noi, orasele inteligente trebuie sa restabileasca echilibrul natural primordial, iar spatiile verzi sa fie adaptate circumstantelor actuale si astfel sa contribuie la atenuarea schimbarilor climatice resimtite la nivel global. Din aceasta perspectiva, in Romania, tranzitia catre orasele inteligente trebuie sa porneasca de la presiunile cu care se confrunta mediile urbane, in special Capitala, in special la carenta spatiilor verzi, amplasarea, tipologia, starea si managementul acestora. Tema este deosebit de vasta, astfel ca studiul curent reprezinta un preambul al unei serii de studii intreprinse avand ca obiectiv final restabilirea echilibrului natural si conservarea biodiversitatii din mediul urban. Cercetarea are in vedere identificarea principalelor deficiente ale modului in care au fost create si gestionate spatiile verzi din Bucuresti si elaborarea directiilor prioritare pe care autoritatile trebuie sa le impuna pentru dezvoltarea padurilor urbane si gestionarea durabila a acestora. Rezultatele preliminare indica faptul ca elementele antropice au fost dezvoltate pe seama scaderii intinderii si calitatii elementelor naturale, in special in anii in care dezvoltarea imobiliara si comerciala a fost orientata spre centrul orasului. Mai mult, in demersurile efectuate cu privire la spatiile publice verzi, multe dintre speciile folosite nu (mai) sunt adaptate conditiilor climatice si urbane actuale. Lucrarea se adreseaza autoritatilor locale, agentilor economici, cercetatorilor si publicului larg, fiecare dintre acestia avand un rol important in crearea si gestionarea durabila a padurilor urbane romanesti.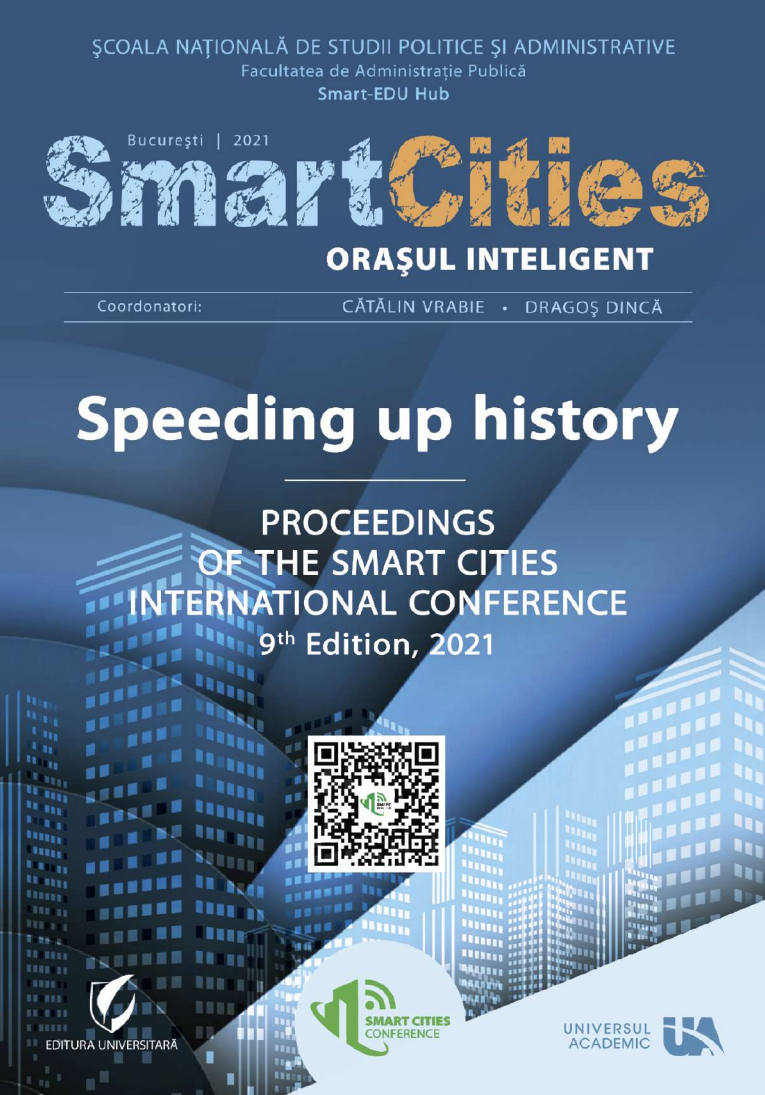 Downloads
License
Copyright (c) 2021 Laurentiu CIORNEI, Paula MUNTEANU
This work is licensed under a Creative Commons Attribution-NonCommercial-NoDerivatives 4.0 International License.
How to Cite
[1]
CIORNEI, L. and MUNTEANU, P. 2023. Gestionarea durabila a padurilor urbane in orasele inteligente. Smart Cities International Conference (SCIC) Proceedings. 9, (Apr. 2023), 165–178.