Private initiative and public management - factors in the development of smart cities in Romania
Keywords:
strategy, scientific research, technological development, social innovation, mobility of the population
Abstract
The article aims to establish the factors of influence on the development of smart cities from the perspective of their economic sector. Established concepts related to the functioning of the smart city are used, such as urbanization, smart citizens, smart infrastructure, mobility, technology, communication, open data, innovation, the knowledge economy, but also development-specific ones such as efficiency. In view of the current situation, the trends already shown and the aspirations for the smart cities in Romania, the article analyses possible combinations of factors grouped by sector capable of ensuring the dynamics of social innovation in this field. The study uses the observation method of the phenomenon under study (smart city), the analysis and summary of available data on the combinations of factors that have generated the success of smart city projects, the impact analysis of legislation, public policies and the attitude of administration to processes supporting and converging toward smart communities, mapping attitudes to modernization, technology and sustainability, identifying some success factors of local public administrations along the lines of smart community development, selection of results from scientific research that can guide the likely development of smart cities. The connection between scientific research in the various fields (exact sciences, social sciences, technology), technological development, social innovation and mobility of the population is presented. The method of interviewing or collecting previously expressed views on different media channels, including during various events relevant to the evolution of smart cities, the taking up of available information collected through statistical methods, other specific methods for obtaining the data needed for a comprehensive analysis of smart cities in Romania, shall be used. The results of the research are to determine possible combinations at the current stage between economic sectors with potential for smart city development. In order to validate the results of the research, there will be presented the combination of factors that generated some successful projects in the field of smart cities in Romania. The article will help clarify options for all those who wish to engage in the creation of smart communities and will facilitate the development of strategies.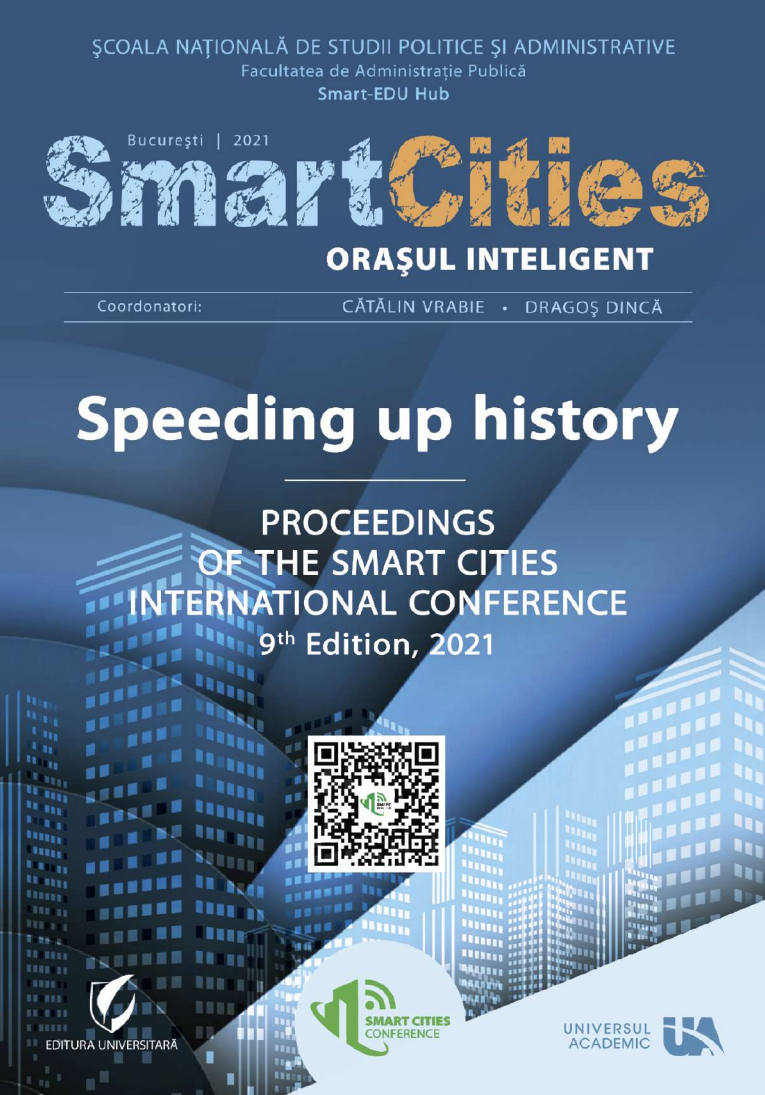 Downloads
How to Cite
BALUȚA, A. V., & RADA, A. C. (2023). Private initiative and public management - factors in the development of smart cities in Romania. Smart Cities International Conference (SCIC) Proceedings, 9, 485–496. Retrieved from https://scrd.eu/index.php/scic/article/view/389
License
Copyright (c) 2021 Aurelian Virgil BALUTA, Alexandru Cristian RADA
This work is licensed under a Creative Commons Attribution-NonCommercial-NoDerivatives 4.0 International License.