Rolul IoT in dezvoltarea administratiei publice. Administratia 2.0
Keywords:
digitalizare, avantaje, dezavantaje, administrația 2.0 în România
Abstract
De-a lungul timpului administratia publica a trecut prin diverse transformari in vederea optimizarii sale pentru a putea oferi servicii publice de inalta calitate tuturor cetatenilor. Data fiind situatia actuala, in care activitatea institutiilor publice se indreapta catre digitalizare pentru a transfera serviciile publice in mediul online. Astfel, la baza administratiei 2.0 sta abordarea si implementarea IoT (Internet of things/Internetul obiectelor) in cadrul institutiilor publice pentru a dezvolta servicii publice online eficiente si eficace. In cadrul acestei lucrari imi propun sa examinez principalele elemente ale IoT si modul in care acestea pot fi utilizate in optimizarea administratiei publice. In plus, trebuie sa ne axam atat asupra avantajelor digitalizarii administratiei, cat si a dezavantajelor acesteia pentru a stabili bazele administratiei 2.0. Cu alte cuvinte, in ciuda importantei mediului online in momentul actual, administratia romaneasca trebuie sa aiba in vedere faptul ca optimizarea sa nu tine numai de adoptarea instrumentelor IoT, ci si de asigurarea serviciilor publice catre cetatenii care nu au acces la internet. Principalele obiective ale acestei lucrari constau in conturarea instrumentelor IoT si a modului in care utilizarea acestora contribuie la optimizarea administratiei publice si identificarea elementelor administratiei 2.0. a sistemului administrativ romanesc. In vederea elaborarii studiului ma voi axa pe lucrari stiintifice din domeniul ingineriei pentru a stabili modul in care s-a dezvoltat conceptul de "Internetul obiectelor" si a elementelor sale, dar si utilitatea acestora in spatiul administrativ prin exemple concrete. In plus, voi realiza o analiza SWOT privind digitalizarea administratiei publice romanesti in vederea conturarii administratiei 2.0. Originalitatea acestui studiu provine din abordarea situatiei actuale a administratiei publice romanesti (criza provocata de pandemia cu noul coronavirus COVID-19 si situatia privind lipsa serviciilor de internet la nivelul statului).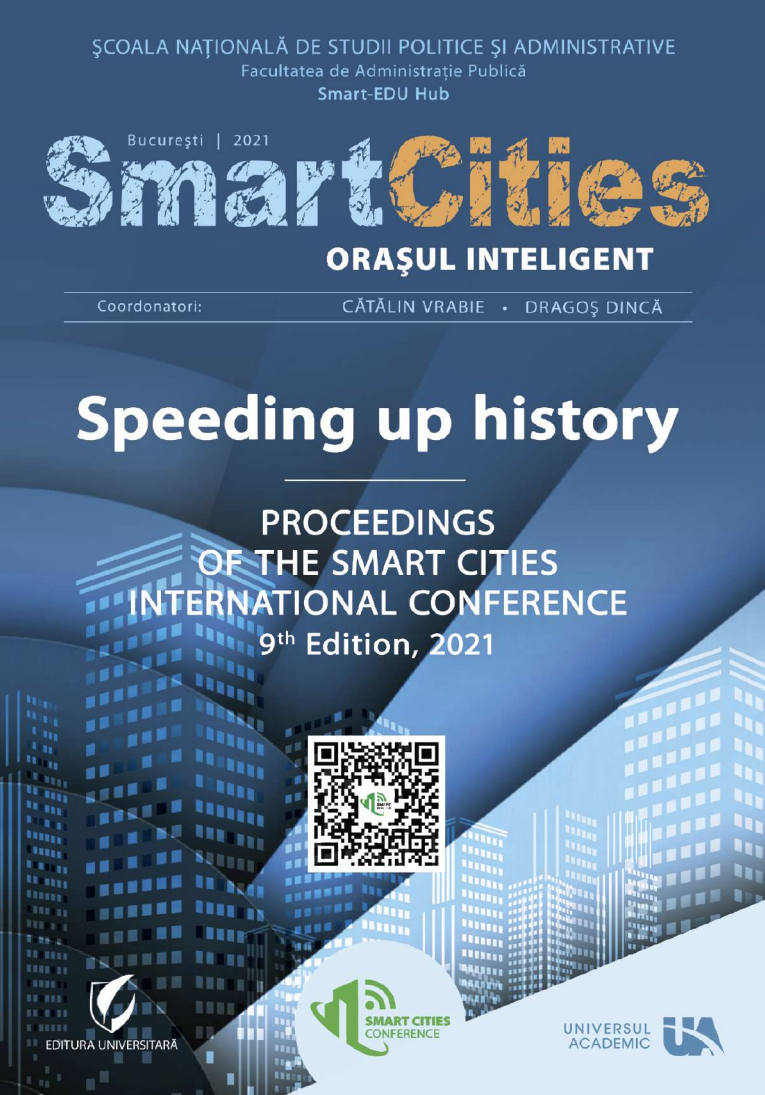 Downloads
License
Copyright (c) 2021 Larisa-Florentina BUTNARIU (BADEA)
This work is licensed under a Creative Commons Attribution-NonCommercial-NoDerivatives 4.0 International License.
How to Cite
[1]
BUTNARIU (BADEA), L.-F. 2023. Rolul IoT in dezvoltarea administratiei publice. Administratia 2.0. Smart Cities International Conference (SCIC) Proceedings. 9, (Apr. 2023), 425–435.