Digitalizarea administratiei publice din Romania in raport cu tendintele europene
Keywords:
E-guvernare, calitatea vieții, servicii publice eficiente, influența legislației, necesitatea implementării noilor tehnologii
Abstract
Digitalizarea administratiei publice constituie un subiect de interes atat pentru autoritati, cat si pentru beneficiarii serviciilor publice, in speta, cetatenii. Prezenta lucrare isi propune sa evidentieze parcursul Romaniei in ceea ce priveste digitalizarea sectorului public, iar in aceasta directie vom analiza tendintele europene si influenta pe care au avut-o asupra situatiei nationale. Atentia acordata acestui subiect este fundamentata de necesitatea dezvoltarii unei e-guvernari cu scopul de a eficientiza si de a inova serviciile prin intermediul implementarii noilor tehnologii. In acest sens, se prezuma ca e- guvernarea conduce catre dezvoltarea oraselor inteligente si contribuie la cresterea calitatii vietii, iar pe parcursul acestei lucrari vom dovedi aplicabilitatea acestui deziderat prin intermediul unei abordari descriptive, datele interpretate fiind colectate utilizand metode calitative (observatie documentara si analiza de continut). Chiar daca este un subiect nou abordat de catre practicieni si teoreticieni, exista o vasta literatura de specialitate, urmand a fi analizate studiile empirice efectuate asupra conceptelor de e-guvernare, digitalizare, orase inteligente, dar si asupra calitatii vietii in raport cu acestea. Studiul de caz asupra necesitatii si implementarii digitalizarii guvernarii presupune si analiza legislatiei nationale si europene, aceasta fiind ulterior supuse interpretarii. Astfel, lucrarea va sublinia stadiul in care Romania se afla din punct de vedere al digitalizarii serviciilor publice, impactul pe care il au actiunile intreprinse pana in prezent, dar si factorii cheie de care depinde procesul. De asemenea, vor fi trasate posibile directii de actiune in vederea continuarii si consolidarii procesului de digitalizare a sectorului public.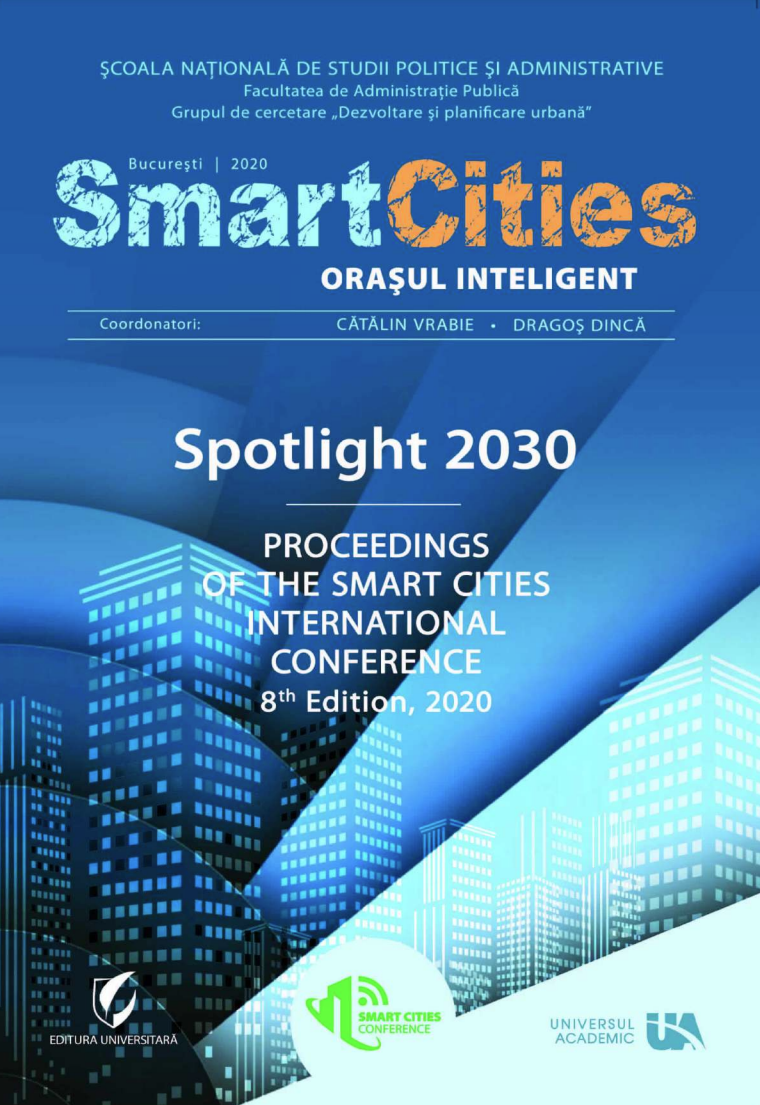 Downloads
License
Copyright (c) 2020 Robert DAMASCHIN, Madalina Georgiana MIHAIL?
This work is licensed under a Creative Commons Attribution-NonCommercial-NoDerivatives 4.0 International License.
How to Cite
[1]
DAMASCHIN, R. and MIHĂILĂ, M.G. 2023. Digitalizarea administratiei publice din Romania in raport cu tendintele europene. Smart Cities International Conference (SCIC) Proceedings. 8, (Apr. 2023), 47–64.