Pandemic drive for synchronized smart political atmospheres
Keywords:
smart place, smart atmosphere, meta-sphere, e-governance, synchronize
Abstract
The etymology of the word atmosphere connects in our view the COVID-19 with the "airquake" concept of Peter Sloterdijk, materialized as consecutive to gas warfare and media-curated order of the postmodern era. This new "airquake '' overlaps the invasion of social networks power anddeliberately sought globalization. In order to prepare our plead for synchronizing smart atmospheres, we explore the concepts of smart limit and smart place as derived from interdisciplinary architectural and technological approach, together with the new concept of smart political atmospheres, exploring further C. Borch's statement that "atmospheric design is intimately related to power". We will complete in contradistinction the spherical trilogy proposed by Sloterdijk. E-governance is an aspect of a recently emerged sphere of the technological smart leap. This might be the ultimate one and we will define it as a meta-sphere, because it combines all the features of the sphere trilogy. This meta-sphere shares characteristics with the binomial user- technology bubble, the plurispheres of interdependent but self-sufficient modern environments, and with the broad ideological sheltering macrosphere of belonging-together that the internet offers. The foam of smart atmospheres is no longer vague, but shaped by the meta-sphere of technology control. Atmospheres defined by visual, acoustic, aromatic, haptic, political, informational and architectural characteristics, will suffer a shift as a response to the pandemic, from collective to individual, from hierarchical to distributed (Elmer). This will limit it's architectural and multisensory sides to those related to homes, but will expunge politics and technology to a paradoxical familiar-remote field. We see necessary synchronizing e-governance with these pandemic segregated immunity fields; synchronize is the generic word that correlates e-governance persuasion, decrease of the technology gap, andragogy and architectural staging in order to attain the larger objectives of efficient "management of possibilities"(Foucault).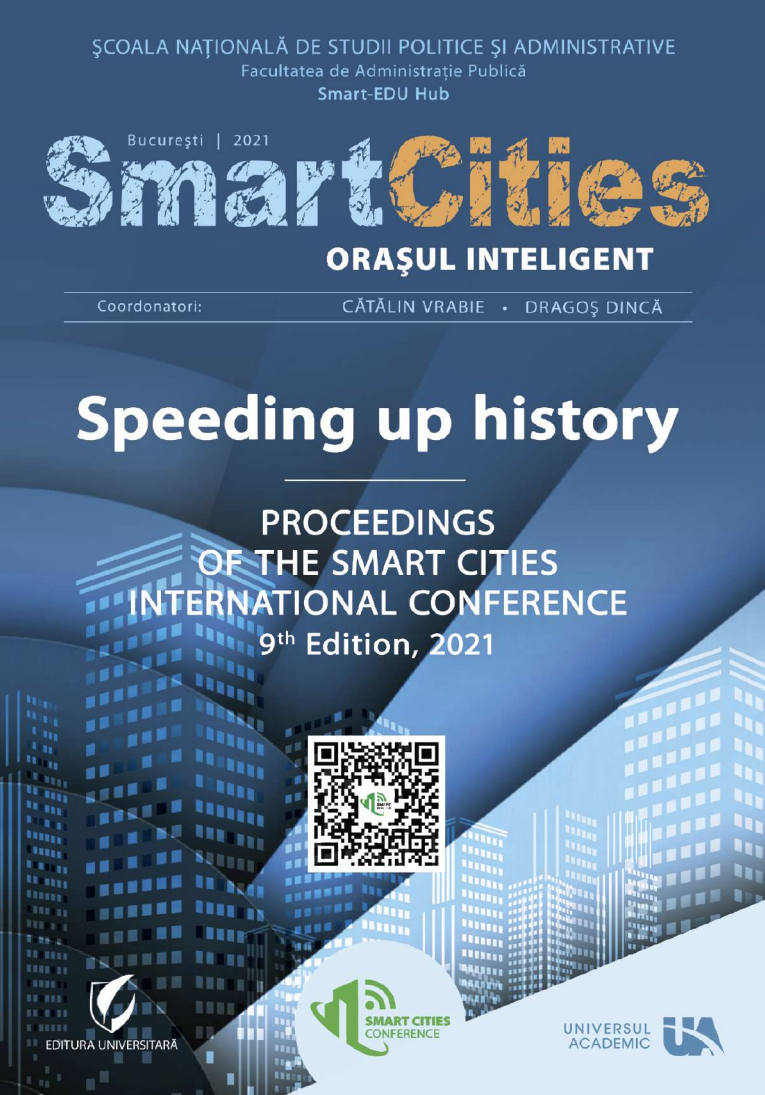 Downloads
License
Copyright (c) 2021 Iulia-Maria COTOVANU TOADER
This work is licensed under a Creative Commons Attribution-NonCommercial-NoDerivatives 4.0 International License.